==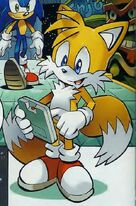 Rules and informations of MobiusReborn== The rules of MobiusReborn will provide the side to stay a safe, clean and organized place for everybody. Please follow the rules and help us make the Wiki better.
Editing the Wiki
If you chose to edit a Wiki page, please make sure not to delete the hard work other people have spend on when writing the article. You should also talk to the Page's owner and ask him/her for permission to add/remove/edit information. If you disagree with information that is written (if non-canon information has been added) you should talk to KrazyKacophony, the owner of the MobiusRebornWiki. As much as she would like to craft the Wiki to the wishes of every single member, some wishes might have to be declined due to being overruled by the other members.
Using pictures
Please make sure the image you wish to use isn't already included in the Wiki's gallery to prevent countless duplicates. If the image is not in the gallery, see if the image is suitable for younger members. If it's not, don't upload it. Own Artwork, however, is allowed. But please, for the sake of the project, do not upload traced or recolored artworks.
If this is a custom version of Mobius, can I use my fancharacters?
Fancharacters are a very tough decision. There are the horrible recolors, but then there are the good, reasonable and quite lovely characters. Before creating a page for your character, send an application of the character with as much information as possible to KrazyKacophony. Don't feel offended if she doesn't allow you to create a page for your character. KrazyKacophony will try to give you as much information as possible to help you make your character better. Another point is that only Sonic characters are allowed on this Wiki.
Sexuality and Sexual preferences
It has been proven twice in the comics that Sonic characters indeed, have genitals, but hidden. Does that mean I can make a character a hooker and a sex thirsty beast? In stories, the act itself shall not be described, but it can be hinted at. (Example: Sonic and Sally waking up in the same bed or maybe a sexual pun. Even Spongebob had dirty puns here and there.) Bi-sexual and gay characters are welcome if they do not describe a queer stereotype for comedic relief that makes fun of gays.
Interacting with other members of the project
Interacting with members of the Wiki and the MR project is pretty much like every other community. We kindly ask you to stay nice and reasonable. If you aren't pleased with someones decisions or opinions, you can still kindly ask why they feel that way. If you are harassed, you can report the bully to an admin of the Wiki.